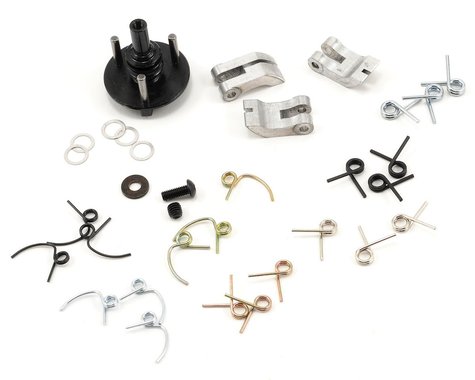 Tekno RC Traktion Drive/Elektri-Clutch System
The Traktion Drive is here! Finally, a cost effective, compact and lightweight slipper system that provides instant power while protecting your drivetrain and improving traction. Tekno took the revolutionary Electri-Clutch system and expanded it into the most flexible power delivery option available for 1/8th scale electric vehicles. Now Tekno RC has EVERYONE covered!
If you want direct drive and motor brakes - CHECK! If you want clutch and mechanical brakes - CHECK! If you want direct drive and mechanical brakes - CHECK! All this with better traction and drivetrain protection. Here's how it works - the Elektri-Clutch system works similar to a traditional nitro clutch where the springs 'PULL' the shoes to the center.
The Traktion Drive employs a new clutch shoe design coupled with a different spring design to 'PUSH' the shoes into the clutch bell, so it's engaged at 0 RPM! This equals 0 lag! Slip amount is adjusted by the thickness of the springs. Use lighter springs (0.8mm, 0.9mm) for better traction on loose tracks. Use thicker springs (1.0mm, 1.1mm) for higher grip tracks.
Features:

Instant power, zero lag

Improves traction in all conditions (indoor/outdoor)
Allows the use of motor brakes or mechanical brakes
Lowers temps on motor and ESC

Protects your drivetrain under acceleration AND braking
Allows reverse
Adjustable (different springs provide different slip settings)

Inexpensive (doesn't cost as much as a whole conversion kit)
Super long wear 7075 clutch shoes (we're talking months and months)

BACKWARDS COMPATIBLE WITH ALL TEKNO KITS!!!
Includes:
(1) 1/8th clutch adapter
(1) M3x8mm button head screw
(1) M4x4mm set screw
(1) M3 washer
(5) 5x7x.2mm shims
(3) aluminum clutch shoes
(3) 0.7mm Elektri-Clutch springs
(3) 0.8mm Traktion Drive springs
(3) 0.9mm Traktion Drive springs
(3) 1.0mm Traktion Drive springs
(3) 1.1mm Traktion Drive springs
NOTE:
The 0.8 and 0.9mm Elektri-Clutch springs are no longer included in this pack.