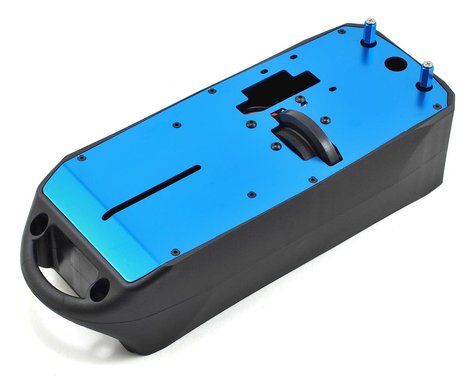 Team Associated Factory Team Compact 1/10 & 1/8 Starter Box
This is the Team Associated Factory Team Compact 1/10 and 1/8 Starter Box. With moveable top plates and pegs, the Factory Team Compact Starter Box can adjust to fit almost any 1/10 and 1/8 scale nitro car - on-road or off-road. The box can be powered with two 7.2V NiMH batteries or two 7.4V LiPo batteries and features a single 775 motor and a black top plate "Factory Team" wrap sticker.
Features:

Starter wheel and motor are positionable to start nitro engines that are mounted in either orientation
The battery tray fits 7.2V 6-Cell NiMH or 7.4V 2S LiPo packsEasy access to internals
Includes single heavy-duty 775-size motor
Rubber feet protects table surface
Included Factory Team top-surface decal can be applied for extra customization
Easy assembly of external parts
On/off switch
Built-in handle
Specifications:
Length: 12.75" with handle
Width: 5.0"
Height: 4.85"
Weight: 4.7 lbs with batteries installed
Motor: 775 size, 12V-14.4V
Power Source: Two 7.2V stick batteries
Setup Tip: Remove engine, line up the pegs to position car so flywheel is over starter wheel, then reinstall engine.