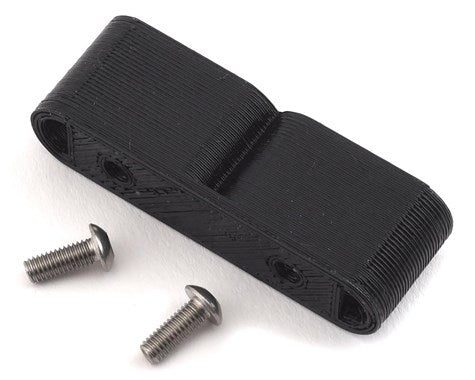 Schelle Racing eBuggy 10mm Battery Spacer
The Schelle eBuggy 10mm Battery Spacer allows you to shift the battery back towards the CG for a more balanced weight bias (50-50). The result is more controllable steering, and better rear grip on acceleration leaving the turns. With the massive weight of 4S batterys, many ebuggy manufacturers shift the weight extremely far forward which can make the buggy turn-in too hard, and get loose on acceleration. Shifting the weight of the battery back 10mm cures most of these issues with no sacrifice in lap times.
If you've ever tried making a foam spacer, you'll know they get filthy dirty, and require tape/glue to keep in place. This spacer fastens to your battery tray, never shifts, falls out, or compresses so that your pack is 100% secure in crashes. The rear stop is not really needed since we only crash in FWD mode. Make sure and run velcro straps and adhesive foam under the pack to keep it from sliding around.
NOTE: Some modification may be required. Use a dremel or side-cuts to remove the back wall of your ebuggy battery tray. 2.5mm or 3/32" Drill needed for pilot holes.
Features:
10mm wide hoop style 3-d printed design to absorb shock.
Fastens to tray, no foam to fall out or flop around. Mount screws included.
3-d printed in the USA at Schelle out of durable black polymer.
Some modification required. Use 2.5mm, 3/32" or reamer to drill pilot holes in your tray. Remove the back wall of tray and shift ESC back for clearance to allow for original or rearward battery locations.
Fits Associated RC8B3.1e series, Mugen MBX8 & 7, XRAY XB8.
Remove Tray from Car, Remove ESC.
Place 10mm spacer against front wall of tray, use holes to mark and drill 2 pilot holes for M3 self tap mount screws. Use 2.5mm or 3/32" drill (not included)
Trim and remove back wall of battery tray.
Install battery in rearward location, check for clearance. Re-install ESC.