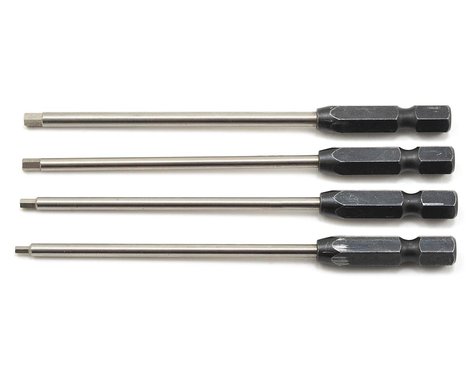 ProTek RC "TruTorque" Metric 1/4" Power Drill Tip Set (4) (1.5, 2.0, 2.5, 3.0mm)
This is a ProTek R/C "TruTorque" Metric Power Tool Tip Set, with 1.5, 2.0, 2.5 and 3.0mm tips. No one wants to spend money on low quality tools. Tools are an investment that should not be taken lightly and are one of the few items that should outlast the life of the model you are working on...and remain with you for years after. With so many choices available, the decision can be overwhelming. So ProTek R/C has stepped up again, expanding its product line with a complete range of affordable, high quality tools that help to make the decision a little easier.

Anyone who has used a cordless drill to wrench on their rig knows that when used properly, power tools can provide an incredible advantage. They not only allow you to replace damaged parts faster, but also help to prevent hand fatigue. ProTek R/C "TruTorque" Power Tool Tips are machined from high quality HSS steel for durability and long life. The precision cut tips provide an exceptional fit with the fastener. The 1/4" drive hex ends are designed to fit tools that accept a 1/4" drive hex socket.

When it comes to high quality products that are backed by incredible customer support, ProTek R/C has you covered with the products you need to keep your rig ready for action, no matter what.
Features:

Quality tool steel tips

Standard 1/4" drive for compatibility with common power tools

Size is marked on the tip for identification
Specifications:
Total Length:
85mm
Tip Length:
54mm
Material:
HSS Steel
Includes:
(1) 1.5mm 1/4" Drive Power Tool Tip
(1) 2.0mm 1/4" Drive Power Tool Tip
(1) 2.5mm 1/4" Drive Power Tool Tip
(1) 3.0mm 1/4" Drive Power Tool Tip