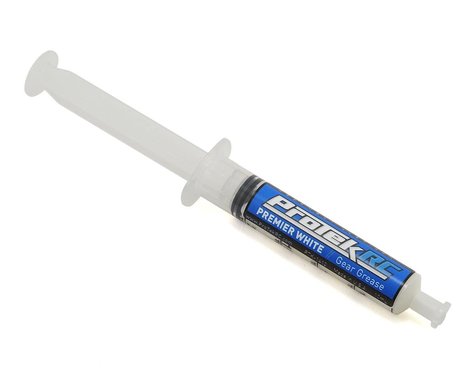 ProTek RC "Premier White" Friction & Noise Reducing Gear Grease Lubricant (10ml)
This 10ml syringe of ProTek R/C "Premier White" Friction & Noise Reducing Gear Lubricant that provides super smooth and friction-free performance. It works great in any weather condition, performs throughout a wide temperature range and is safe with plastic and metal.
For R/C applications, Premier White is best used with plastic spur gears, 1/10 scale transmission gears and 1/8 differential ring, pinion gears and axle joints. Testing has found the Premier White helps increase roll-out speed, higher RPM's and increased parts life.
To use, simply apply a small amount of Premier White across the width of one gear. As the gears spin, Premier White will spread across all gears and teeth providing a thin layer of lubrication. This also helps reduce gear mesh noise, as well as seat brand new 1/8 ring and pinion gears.
Premier White also works great as a general R/C assembly grease; use it with bearings, servo gears, axle joints or even the threads of a turnbuckle when installing new ball cups.
Premier White has plenty of other household, recreation and project uses. Keeping a spare tube in the garage is a great idea when working on cables, chains or even your bicycle.
Features:

Friction and noise reducing gear grease
Safe for plastics and metals
Great with 1/10 transmissions, 1/8 Differential ring and pinion gears
Faster acceleration, higher rpm, less gear noise and longer gear life
Other applications:

Assembly lube
Pre-thread lube for screws and turnbuckles into metal or plastic
Axle joint grease
Servo Gear Lube
Bearings
Chains
Cables