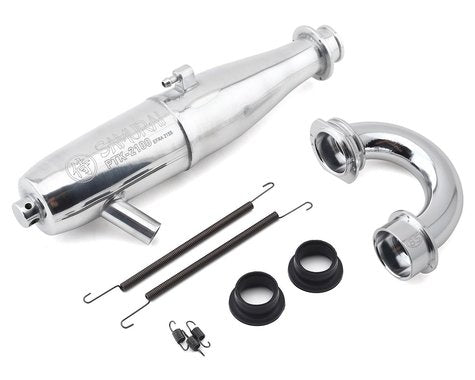 ProTek RC 2100 Tuned Exhaust Pipe w/85mm Manifold (Welded Nipple) (EFRA2155)
This is the ProTek R/C 2100, EFRA 2155 Tuned Pipe, with an included extra long 85mm Manifold. This package also includes two long manifold springs, three short pipe springs and two manifold gaskets.
The ProTek R/C 2100 is a finely-crafted competitive .21 off-road tuned pipe that features a mirror like chrome finish and high strength welded nipple. Designed to perform between the PTK-2090 and PTK-2060 exhaust pipes. The 2100 will provide great torque for those hard to clear jumps, and heavy truggies.  
2100SC Tuned Pipe Features:
Included 85mm manifold

Mirror chrome like finish
Durable high-strength welded nipple

Narrow, long body design
Maximum low-end performance

EFRA Approved (EFRA2155)

Includes:
(1) 2100 Tuned Pipe
(1) 85mm Manifold

(3) Manifold Exhaust Springs
(2) Tuned Pipe Exhaust Springs
(2) High Temp Manifold Gaskets
(1) Set Screw