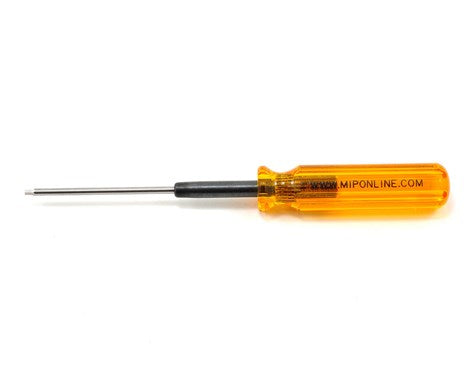 MIP Thorp Hex Driver (0.9, 1.3, 1.5, 2.0, 2.5, 3.0mm)
MIP hex wrenches are precision ground with Diamond wheels for accuracy and unmatched strength. This Hex Driver features the classic Thorp polycarbonate handle that stays cool and allows you to apply 100% of your available torque with less fatigue.
Tool Makeup:
    Tool hex cut with diamond wheel for ultimate precision
    Tool shank CNC ground from US Grade tool steel drill blanks
    Tight tolerances held within 20 Microns which is .02 mm and moreover .0008 in. ! To put that into perspective that's like taking a human hair and dividing it by 4 !
    Super Comfy to the hand Polycarbonate Handles that are resilient to hot and cold weather so wont harm your hands in poor weather conditions.
    Every tool assembled by hand
    Manufactured and packaged 100% in the USA
 Accolades:
    Highly regarded as the #1 Tool in the RC industry
    20 plus years of production
    Used by World Champions and hobbyists alike around the World
    Trusted wrench to get out stripped screws other sub par tools create
World Class Products, Precision Tools, Race Proven Performance, Thats MIP!
NOTE: MIP stands behind every wrench and hex driver! MIP quality assurance promises that all wrenches and hex drivers are free from defects in workmanship. In the rare case that a defect is found, racers can get defective MIP Hex Drivers replaced for $15.00 each including Continental USA shipping. Hawaii and International customers pay just $20.00, including shipping. Send them directly into the MIP factory. Due to the nature of normal use of tools, wrenches broken by the customer, altered, or misused will not be replaced. All replacements are subject to inspection and are at the discretion of MIP.
MIP9007 = FP2134 MIP Hex Driver Wrench 1.5mm
MIP9008 = FP2135 MIP Hex Driver Wrench 2.0mm
MIP9009 = FP2136 MIP Hex Driver Wrench 2.5mm
MIP9011 = FP2138 MIP Hex Driver Wrench 3.0mm