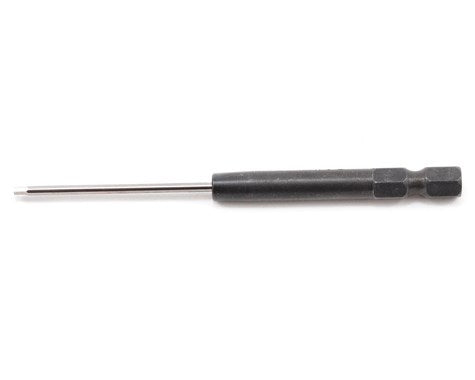 MIP Speed Tip Hex Wrench (1.5, 2.0, 2.5, 3.0)
These wrenches have high quality precision cut steel tip for accuracy. These tools are awesome for wrenching on your cars with a power screwdriver or electric drill that has a 1/4" quick release mechanism, and are perfect for quick maintenance on your cars.
NOTE: This tool is recommended for use with power screwdrivers with adjustable clutches only. MIP stands behind every wrench and hex driver! MIP quality assurance promises that all wrenches and hex drivers are free from defects in workmanship. In the rare case that a defect is found, racers can get defective MIP Hex Drivers replaced for $15.00 each including Continental USA shipping. Hawaii and International customers pay just $20.00, including shipping. Send them directly into the MIP factory. Due to the nature of normal use of tools, wrenches broken by the customer, altered, or misused will not be replaced. All replacements are subject to inspection and are at the discretion of MIP. 
MIP9007S = FP2143 MIP Speed Tip 1.5mm Hex Driver Wrench Insert
MIP9008S = FP2144 MIP Speed Tip 2.0mm Hex Driver Wrench Insert
MIP9009S = FP2145 MIP Speed Tip 2.5mm Hex Driver Wrench Insert