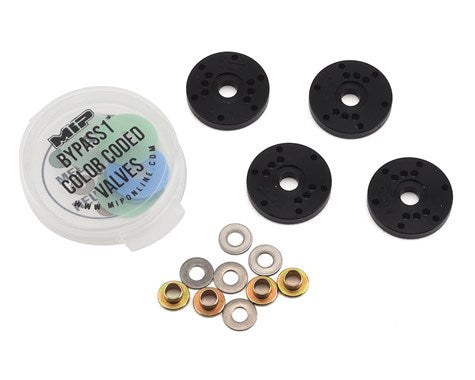 MIP Bypass1™ Pistons, 6-Hole Set, 16mm, Mugen 1/8th
The MIP Mugen 16mm 6 Hole Bypass1 Pistons are not like anything you have ever experienced before. MIP Bypass1 pistons are fully customizable and allow you to control your shocks rebound speed. MIP Bypass1 Pistons are also Dyno Tuned to ensure they match the compression characteristics of the stock pistons!
Featuring MIP Color Coded Valves, MIP Bypass1 Pistons combined together with MIP valves allow you to control and maximize your cars shocks performance based on the valves you use. Thicker valves generate a slower rebound and thinner vales get you quicker rebounds. Mix and match valves together and find the best set up for you and your car!
MIP Bypass1 pistons are being used by some of the top racers in the world, including Adam Drake and Ryan Maifield. The MIP Bypass1 technology is guaranteed to give you that world champion edge on the track!
Valve Designation
Different color valves allow you to identify which thickness valve your using. The result? You can tune your shocks to optimize your cars performance. Stack the valves for even more fine tuning!
.003 Green Fast Rebound Valve
.005 Blue Medium Rebound Valve
.007 Clear Slow Rebound Valve
.010 Brown Neutral Valve
.004 Tan Gap Valve
Drill out Bypass1™ Pistons to your spec!
Bypass 1 Pistons feature 1.2mm pre-drilled holes (#18410) & 1.3mm pre-drilled holes (#18400) which allow you to easily drill them out to custom hole sizes. For instance, you can drill 3 holes at Ø1.35mm and the other 3 at Ø1.50mm. Another advantage of the Bypass1 Technology!
MIP Dyno-Tuned Technology™
MIP Dyno tunes their pistons to ensure they match the compression characteristics of the stock pistons. The result? MIP can guarantee Bypass1™ Pistons duplicate the stock pistons with precision and accuracy along with unparalleled quality, providing you with the most optimized feel in your shocks!
Features:
1.3mm pre-drilled holes, adjust to your normal hole size setup easily and enjoy the added benefit of Bypass1™ Tech.
Control rebound speed with MIP Color Coded Valves 
Different valve thicknesses allow adjustable rebound speeds.
Stacking valves allows for fine tuning adjustments when needed. 
Precision Machined Bearing Grade Pistons
Precision Stamped Valves 
Manufactured 100% in the USA
1st Time Setup Tips: 
Drill out MIP Bypass1™ pistons to your current setup and use the same oil setup you used too. 
Add 1 clear valve on top of each piston as a starting point front and rear. 
Bench test the suspension and drop test, the pack should be the same as your stock pistons that you were running. Rebound rate is now changed with the .005 Medium valve.
 If your suspension feels sluggish drop the valve to green .003, if you feel its too fast bump it up to .007 or stacking valves is possible once you get to .010 in adjustment its almost a 1 to 1 rate of rebound vs compression. 
If you feel that the suspension is still to sluggish at .003 drop 2.5 - 5.0 wt in oil, to get the right rebound vs pack you are looking for. 
Remember you can stack valves for that fine rebound adjustment. Put the lightest valve first then add thicker valves on top.
What Bypass1™ Does for the car / you:
Car - Increased vehicle responsiveness
Car - Increased stability
Car - More Predictable
Car - Increased jumping, landing , corning and rough track efficiency
You - Feel more connected 
You - Driving confidence goes up 
You - Pushing the car to the limit is more comfortable
Includes:
(4) 6 - Hole 1.3 mm MIP Bypass1™ Pistons 
(5) .003 Green (Fast Rebound Valve)
(5) .005 Blue (Medium Rebound Valve) 
(5) .007 Clear (Slow Rebound Valve)