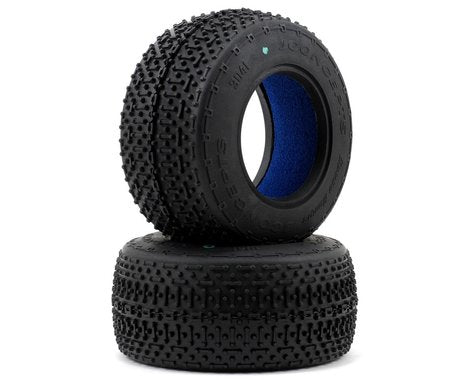 JConcepts Goose Bumps Short Course Tires (2) (Green)
This is a set of two JConcepts Goose Bumps Short Course Tires. Short Course racing has progressed and JConcepts is on top of the development with the introduction of the Goose Bumps. Realism has not been left out on these race tires, the Goose Bumps are completely detailed with center lug all-terrain inspired tread and side wall. The JConcepts Goose Bumps tires are just what the doctor ordered; combining a totally unique step pin and bar lug design with sticky green compound to allow even greater control on off-road surfaces.
The Goose Bumps are a special breed, designed for maximum performance when new or used as the design allows even wear all the way down to the tire body. Once the driver wears through the initial pin, a bar follows to maximize potential on aggressive surfaces.   The Goose Bumps incorporate a compact tire body with a crisp tread pattern with precise separation for intense short course racing competition.
Goose Bumps in new condition excel on soft surfaces with either dry or wet conditions. Worn Goose Bumps excel on indoor or outdoor clay tracks where a slight groove has formed.
Features:
Race inspired tread design with all-terrain inspiration
Available in sticky Green compound
Compact tire body with crisp tread and precise separation
Aggressive step pin and bar lug combination design
Includes foam inserts
JConcepts Tire Compound Applications:
White (Medium): For High Temperature, Outdoor Racing. Intended for use on abrasive tracks.
Blue (Soft): All purpose compound. Excels in dusty, low bite conditions.
Orange (Soft): Intended for Black/Blue Groove conditions. Excels on Dry, High Temperature Tracks
Gold (Indoor Soft): Developed for indoor Clay surfaces.
Green (Super Soft): For conditions with minimum traction. Works well on slippery, wet tracks.