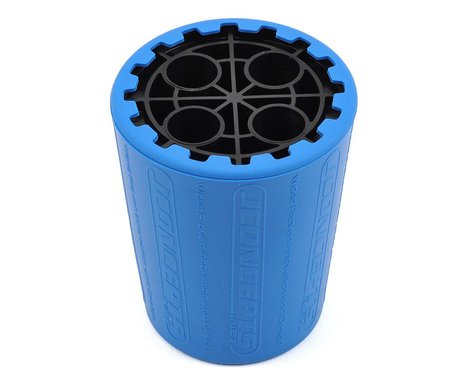 JConcepts Exo 1/10th 12mm Shock Stand & Cup (Blue/Black)
The JConcepts Exo 12mm Shock Stand is molded from durable, light-weight material with a design that features a ribbed Exoskeleton frame with ribbing and surrounding geometry that forms around the shock holes. Additionally, pass-through holes to allow the user to use the stand from either end. The stand sits inside a molded rubber cup with embossed JConcepts.net logos patterned around the surface.
To use, simply remove the rubber cup from the stand and place the items near each other. Use the convex shape of the cup bottom to organize shock parts such as o-rings, spacers, shock pistons, screws, e-clips or inner limiters. Once the shocks are completely assembled, place them in the stand and fill each shock with the desired oil. Go back to each shock and top off the fluid level to an appropriate amount which doesn't overflow. Allow the shocks to sit for 10-15 minutes while the air escapes to the top and dissipates. Add the shock caps to each unit and bleed as directed. Available in blue/black, black/white or black/yellow color combinations, the JConcepts shock stand has the function and look JConcepts accessories are known for.
Features:
Original JConcepts design
Durable and light-weight plastic and rubber molded components
Available in multiple color combinations
Embossed JConcepts logos for authenticity