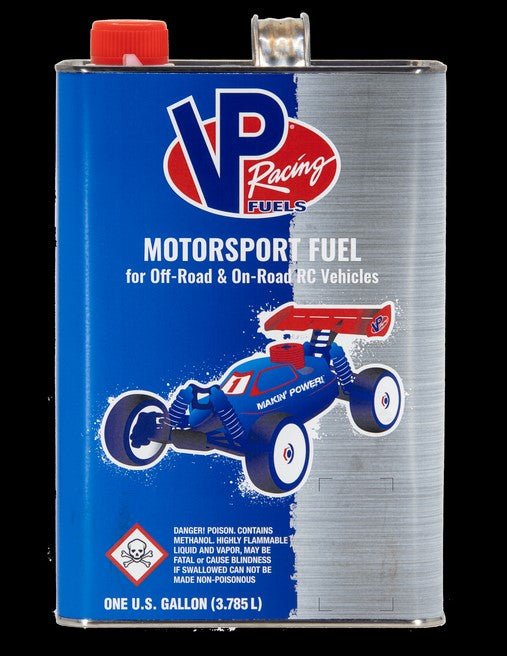 VP PowerMaster 25% RC Pro Race 25 9% Oil (3.78l)
Product Description
RC Pro Race™ is a superior RC nitro car fuel. It contains both a 25% nitro concentration and a superb 9% synthetic/castor oil blend for peak performance in 1/8 scale RC racing. RC Pro Race™ contains no dyes and delivers improved mileage and bottom end power. Above all, this fuel is proven on the track. Josh Wheeler, Mark Pavidis, and Josh Glancy had break-out performances at the 2014 ROAR Fuel Off-Road Nationals at Thornhill Racing Circuit. This RC nitro car fuel propelled the trio to both the Buggy and Truggy "A" Mains at the event in Hutto, Texas.
Why is our fuel so successful? VP has nearly 50 years of experience blending specialty fuels for a wide variety of racing applications. The VP brand has fueled more race winners on the land, sea, and the air than any other brand. Our legacy is rooted in a deep passion for better performance on the track. In fact, Our Passion is Your Performance®.
You won't just notice a difference in our RC nitro fuel. It's important to know that the fuel container will keep your high-performance product as fresh down the road as the day you buy it.  We use only DOT-approved pressure-tested metal cans with an inner lining to prevent corrosion. Additionally, the closure cap is tested to the highest of standards. Summing up, you get the highest quality fuel packaged in a fully sealed can that provides you with peak performance at all times.
RC Pro Race™ Advantages:
Dye-free to improve mileage and bottom end power 

Multi-viscosity 9% Synthetic/Castor lubrication package blend for the ultimate combination of rpm and protection

Ultra-clean burn

Easy to tune

No after-run necessary

Extended runtimes