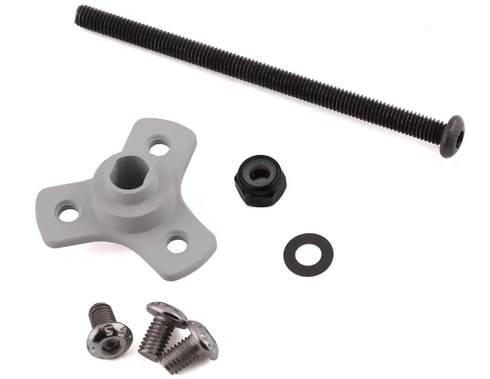 Team Brood B-Mag AE B6 Magnesium Slipper Eliminator (Kimbrough Spur Gears)
The Team Brood B-Mag Magnesium Slipper Eliminator is an extremely lightweight AE B6 option for serious racers looking for a more instantaneous power delivery and reduced transmission rotating mass. The magnesium material has been MAO coated to create a hard and durable finish, and the eliminator hub is over .3 a gram lighter than similar products machined from aluminum. 
To install, secure Slipper Eliminator to Kimbrough style spur gear using the included 3x5mm Button Head Screws. Add a small amount of thread lock to the screws. Slide the assembly onto the Top Shaft, then add the 3x50mm Button Head screw through Top Shaft. On the opposite end of the screw, place included M3x.25mm washer on the screw and then tighten down included M3 Unflanged Lock Nut. Do NOT over tighten nut or screws. Firmly snug is plenty of force to hold units on.
Features:
AE B6 option for serious racers
Instantaneous power delivery
Precision machined magnesium material
MAO coating creates a hard and durable finish
Lighter than a slipper, and lighter than an aluminum eliminator for reduced overall rotating mass
Specifications:
Weight: 1.2 Grams
Material: AZ61 Magnesium
Coating: MAO
Includes:
(1) Magnesium Slipper Eliminator
(3) Nickel Plated 12.9 M3x5mm Button Head Screws
(1) 12.9 M3x50mm Button Head Screw
(1) Aluminum M3x.25mm Washer
(1) Non-Serrated Unflanged M3 Aluminum Lock Nut