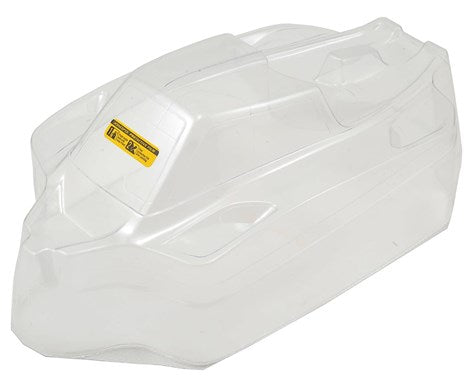 JConcepts Tekno NB48.3 S1 Body (Clear)
The JConcepts Tekno NB48.3 S1 Body has elements created for fast and rough terrain driving. The cab is placed in a forward position with a medium rake angle for an aggressive driving feel without sacrificing out-right balance. The forward pods have the necessary height for chassis related items with an added scoop, built for cooling access from a forward position. The rear deck is built up and includes a rear winglet which drops some force on the rear of the vehicle. The mid-length cab incorporates a one-piece side window layout and includes a long "shark fin" off the rear of the cab for side-traction and straight-line tracking ability.

At the rear of the cab rests several areas which can be trimmed for air-flow and hot air escape which is common inside a nitro vehicle. The sides of the body have a unique step treatment which adds some strength and also a fitted change of direction forming around the chassis side-guards. The end result has the body looking, BOOM, extremely low-profile with heavy JConcepts edginess and appeal. The Silencer is formed in clear polycarbonate material with protective film and each package includes window mask and detailed decal sheet.
Features:
JConcepts Silencer (S1) styling
Forward cab bias, dual channeling rear escape
Rear deck winglet additions on each side
Mid-length cab with "shark fin" for added stability
Assortment of air-escape trim options
Clear polycarbonate with protective film
Includes window mask and decal sheet