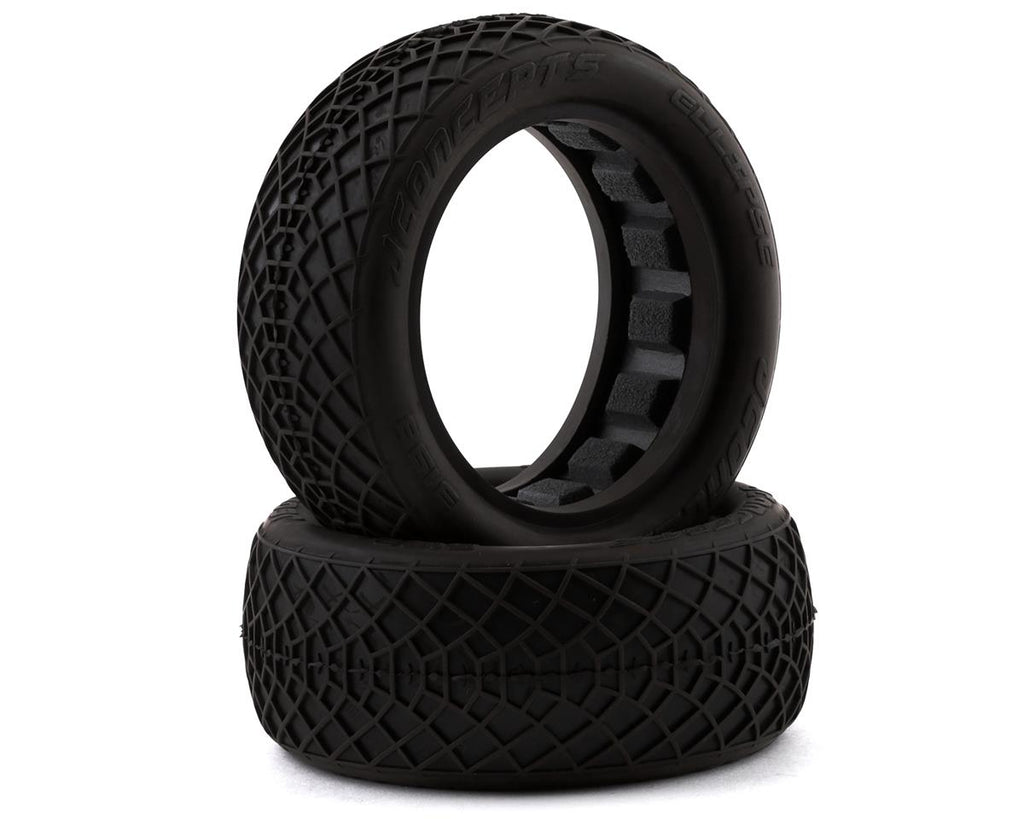 JConcepts Ellipse 2.2" 4WD Front Buggy Tires (2)
JConcepts Ellipse 2.2" 4WD Front Buggy Tires are a "Web" style tire built to compete on smooth high-grip indoor and outdoor surfaces which require a finely detailed connected bar pattern. The center section of the tire has a diamond "home plate" footprint to provide massive forward bite and increased longevity. The web of extensions are unique and have a directional touch giving the racer the ultimate tune-ability.
The Dirt Web tire was originally released during the 2013 racing season and debuted in spectacular fashion with a win at the CRCRC Midwest Championships. Since that time, the Dirt Webs have been an industry leader for indoor performance and often chosen as a control tire for performance, reliability and consistency. During 2016, the Space Bars were introduced to a victory at the 1/10th Off-Road Nationals in the hands of Ryan Maifield in the 4wd modified class.
Jason Ruona explains, "The Ellipse has a slightly tighter carcass, it allows the driver to attack high-speed sections with more comfort. The "home plate" and connected web of tread has more stability high-speed and holds the tire together for today's high-powered vehicles. Connected tread wears significantly better which is useful racing indoors where a racer can break-in and race with the same pair all weekend."
The Ellipse tires are available in a huge selection of compounds such as blue, green, aqua, gold and the ROAR National Champion, silver compound. As a rule of thumb, blue and green are compounds conditioned to perform outdoors while aqua, gold and silver remain the favorites indoors. Included in each package, the Dirt-Tech closed cell inserts known for their durable nature and gray color complete the race tuned package.
Features:
Designed in conjunction with World Champions Ryan Maifield and Spencer Rivkin
Ellipse center-bar control and support
Diamond "home plate" design with extension webs
2.2" bead mounting size for compatibility
Available in multiple compounds
Includes Dirt-Tech Closed cell foam inserts
JConcepts Tire Compound Applications:   

Blue (Soft): All purpose compound. Excels in dusty, low bite conditions.
Gold (Indoor Soft): Developed for indoor Clay surfaces.
Silver (Super Soft Indoor): Similar to gold, but softer. Breaks in faster, recommended on freshly groomed tracks or when a faster break in is needed.
Green (Super Soft): For conditions with minimum traction. Works well on slippery, wet tracks.
Aqua: For ultra dry, dusty groove conditions. Suited to hot weather and abrasive tracks.