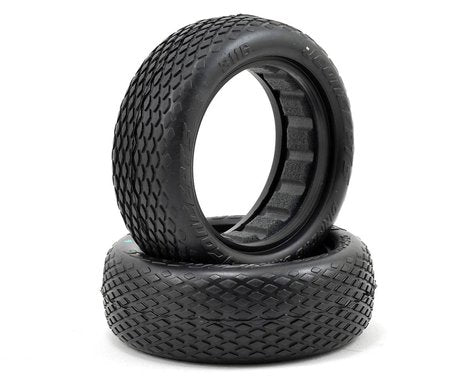 JConcepts Diamond Bars 2.2" 2WD Front Buggy Tires (2) (Blue)
This is a pair of two JConcepts Diamond Bars 2.2 2wd Front Buggy Tires. When racing indoors or outdoors, steering is especially critical during extremely high-grip situations or when a massive amount of rubber has been laid to the racing surface. Available in blue, green and red compounds, the Diamond Bars spread a finely close "Diamond" tread pattern together in low-height to give steering a smooth feel.
In slightly warm conditions, if a track has developed a groove, the Diamond Bars steer more in low and high-speed sections but do not react "on edge" or "dig" themselves into a corner. The close arrangement and low pin height react on the grippy surface providing speed and agility while the overall tire size and blended pin / carcass smooth out the ride and initial turn-in attitude. The Diamond Bars excel outdoor or indoor where the track has taken on rubber and a groove has formed.

The Diamond Bar carcass has been designed to work on either standard 2.2" or the larger 61mm / 2.4" wheels. The tire comes as is ready to mount as 2.2", but by trimming the bead it can fit onto 61mm / 2.4" wheels. Bead trimming should only be performed by an expert.
 
Features:

JConcepts tread, available in multiple compounds
Vertical Diamonds, low-profile tread, close arrangement
2.2" bead mounting size for compatibility
Carefully shaped carcass = smooth steering characteristics
Includes Dirt-Tech closed cell inserts
JConcepts Tire Compound Applications:

Blue (Soft): All purpose compound. Excels in dusty, low bite conditions.
Green (Super Soft): For conditions with minimum traction. Works well on slippery, wet tracks.
Red (Medium Soft): For high groove traction with broken sections. Excels on grippy surfaces that have taken rubber.