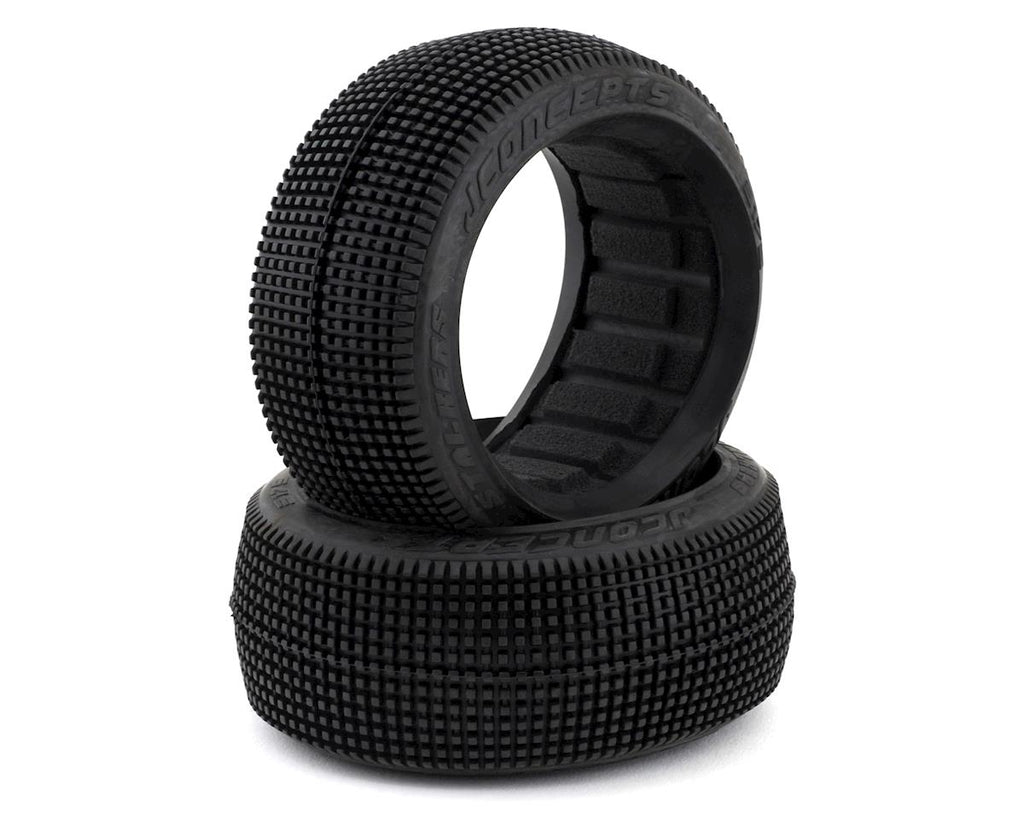 JConcepts Stalkers 1/8 Buggy Tire (2)
This is a pack of two JConcepts Stalkers 1/8 Buggy Tires, with included foams. The Stalkers tire by JConcepts was developed for surfaces which mature over time, get rough, dry and with extreme scaling to the surface. The Reflex tire, designed by Jason Ruona, in early 2014 has been a success and the Stalker is a chip off the old block.
The design team checked over the carcass profile, height and width to assure the best balance of weight and drivability. The Stalkers began with an enlarged square pin which has slight angle on each side. The angle creates some separation at the top which gives some bite in wet conditions providing some versatility to the design.
As the pins meet the base of the tire, the spacing tightens considerably giving a stable footing for the Stalkers. Using softer compounds such as blue and green, the tire has stability and flexibility for fast qualifying. The pin real-estate provides a lot of cushion for extended main events and when paired with long-wear compounds such as R2, O2 and Y2, the race pace can be pushed out to 45-60 minutes with ease.
The stacked row configuration and simple connected pins offer massive forward acceleration. The aligned rows allow some surface drift making the tires forgiving in sand and bumpy track sections. The outside pin has been clipped to help drive-ability and ease the initial turn-in drivers often have concern for. The JConcepts tires include the Dirt-Tech closed cell inserts made famous by their gray color and durability. The package is complete with re-sealable, zip-top packaging and backed with JConcepts customer support and racing heritage.

Features:
JConcepts original tread, available in multiple compounds
Enlarged square, angled pins with horizontal bars
Stacked tread for equal wearing
83mm bead mounting size for 1/8th compatibility
Carefully shaped carcass = forward traction
Includes Dirt-Tech closed cell inserts