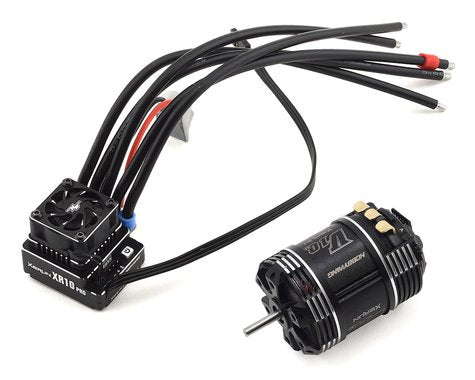 XERUN XR10 Pro G2S ESC Black + V10 Brushless G3 and G3R Combo (2022)
This is the Hobbywing XR10 Pro G2S Sensored Brushless ESC and 5.5t, 6.5t, 7.5t, 8.5t G3 Motor Combo. 
Hobbywing FFD:
A frameless fan is used inside the housing allowing more air to flow through the ESC. With precise maximum airflow, racers will see no additional power draw seen with other fan designs. 
PWM Adjustments:
From preset frequency or the custom frequency settings, tuners can now adjust from 1K - 32K PWM for Throttle and 0.5-16K for Brakes. This allows ultra fine-tuning of throttle and brakes to suit any driver or track condition.
Internal BEC:
The internal BEC is a switching design and provides up to 10A of power. Adjustable from 5-7.4V, this ESC is designed to handle the most power hungry of servos.
NOTE:
While the XR10 Pro G2S ESC is equipped with a built-in reverse polarity protection, the external capacitor will still be damaged if a reverse polarity does occur. For full protection an optional Hobbywing Non-polarity Capacitor Module is recommended.
Features:
32 Bit, M4 microprocessor for ultimate performance
Frameless fan design for extreme cooling
Reverse polarity protection
Precise adjustments to throttle and brake PWM
Optimized programmable parameters
Extended brake force
Drag Brake Acceleration and Softening Function
High output BEC
Specifications:
Wire gauge: 13 AWG Lightweight Ultra-flex
Application: 1/10th Touring car & Buggy racing, 1/10th drift car and F1
Continuous Current: 160A
Peak Current: 1200A
Input Voltage: 2S LiPo / 4-6S Cell NiMH
BEC Output: BEC voltage of 5-7.4V
Programming device: LCD Program Box / OTA Programmer
Firmware: LCD Program box via USB software (PC only) / OTA (iOS / Android) 
Size & Weight: 37.5x30.9x32.5mm (with Fan & Fan Shroud)
Weight: 88g (with wires)
Motor spec recommendation:

Touring Car: >4.5T
Buggy: >5.5T
The V10 G3 Motor line has seen significant improvements over the previous G2 series, for both the Modified and Stock motors. Some updates include an updated can design that promotes easy of maintenance, a special shell design for maximized cooling, high-performance stator core, heat-resistant wire (200°C), lower weight and more. 

Features: 

Specially designed for high-level racing.

Lightweight: The G3 Modified & Stock motors only weigh 161g & 132g respectively, the weights are reduced by 11% & 21% when comparing with the V10 G2 motors.
The built-in high precision Hall sensor combined with the high precision and balanced rotor guarantee outstanding linearity of the motor.
The mechanical timing can be adjusted finely and smoothly; the skid-proof lines on the rear end plate of the motor guarantee stability of the timing after adjustment. For G3 Stock motors (10.5T~25.5T), the timing is adjustable from 30 degrees to 60 degrees; for Modified motors (3.5T~8.5T), the timing is adjustable from 20 degrees to 50 degrees.
The motor case is designed to be easy to dismantle for maintenance purposes and for the replacement of common wearing parts.
The special shell design which makes the stator core expose to the air maximizes cooling. Big holes on the end plates of 10.5T~21.5T motors further help reduce heat; small holes on the end plates of 5.5T~8.5T motors effectively keep sand or dirt from getting inside and damaging the motor(s).
The use of high-performance stator core, heat (200°C) resistant wire, heat (200°C) resistant rotor with strong structure, imported high precision and high strength bearings, and copper solder tabs with super current endurance guarantees outstanding performance and super durability.
Specifications (for 6.5t)
kV: 5120
LiPo: 2S
Resistance: 0.0056
No-Load Current (A): 3.9
Max Output Power (W): 402
Current @ Max Output Power (A): 113
Diameter/Length (mm): 35.9mm (1.41in)/51.2mm (2.01in)
Shaft Diameter/Length (mm): 3.17mm (0.125in)/13.3mm (0.52in)
Stock Rotor: 5-12.1
Sensored: Yes
Brushless: Yes
Poles: 2
Weight (g): 164
Applications: Modified 1/10 4WD Off-Road (not 4x4 SCT)