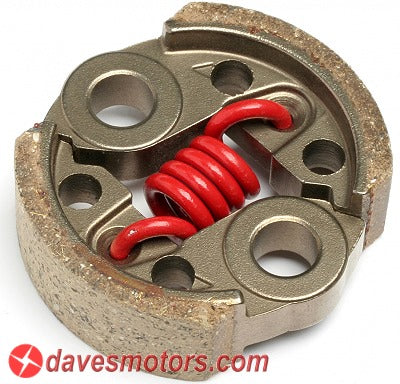 High Response Clutch Shoe & Spring Set (8K)
This High Performance clutch shoe/spring set provides more punch off the line. The stock CY clutch spring used in the HPI Baja 5b engages at approx 6000RPM, these engage at approx 8000RPM and are fully engaged at around 10,500RPM! These clutch shoes are also lightened, resulting in even better performance. These clutches are great for many uses - HPI Baja 5B/5T/5SC, Losi 5ive, Losi Desert Buggy XL - DBXL, FG Modellsport, MCD, Go-Ped, and more!
These clutch shoes require use of CY clutch bolts, flat washers and bellville washers. Zenoah clutch shoe hardware does not work.

Fits Chung Yang CY23RC / CY26RC / CY27RC / CY29RC / GP290 / F270 engines. Also fits Zenoah G23LH / G2D / G230RC / G260RC / G270RC / G290RC / G231PUH / G260PUH / G260PU / G231PUM / G260PUM engines. 
Same as HPI part # 15448.