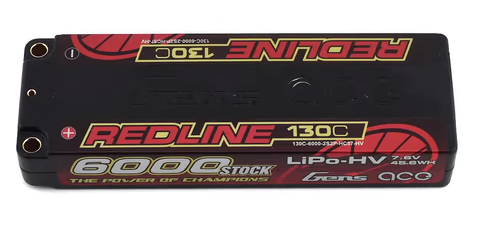 Gens Ace Redline 2S LiHV LiPo Battery 130C w/5mm Bullets (7.6V/6000mAh)
Gens Ace Redline Series 2S 130C 6000mAh Hardcase LiPo Battery Pack with 5.0mm bullet. 
GensAce batteries have been proven within the Radio Control community to deliver reliable and consistent performance for all modelers alike. All GensAce batteries offer superior cell matching at the factory, and are extremely consistent in selecting matched cells after each and every batch produced. Additionally, low internal resistance (IR), offers modelers stable voltage output through the whole duration of the battery.
Features:
Stable automatic stacking technology enables single cell capacities of 6000mAh.

The most strict single cell capacity, voltage, resistance, discharge curve matching process.

Superior Japan and Korea Lithium Polymer raw materials.

Standard 5.0mm bullet
Specifications:
Capacity: 6000mAh
Voltage: 7.6V / 2S2P / 4 Cell
Discharge Rate: 130C
Max Burst Discharge Rate: 260C
Weight: 273g
Size: 139mm x 47mm x 22mm (L x W x H)
Connector Type: 5.0mm bullet