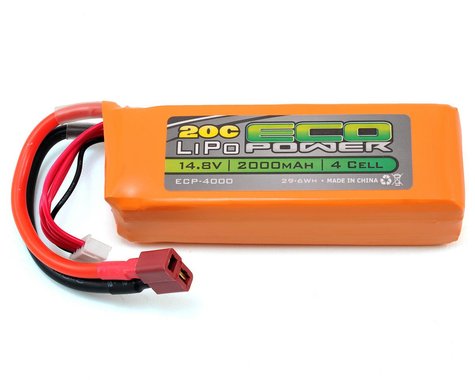 EcoPower "Electron" 4S LiPo 20C Battery Pack (14.8V/2000mAh) (Starter Box) (w/T-Style Connector)
This is the EcoPower "Electron" 4S 2000mAh, 20C Lithium Polymer battery pack. This battery is perfect for your starter box! It will significantly reduce the weight of your starter box, as one of these batteries will weigh less than two 7.2V NiMH batteries. Plus, the battery will provide increased voltage and the punch needed to get those tight engines fired up. This pack includes a factory installed T-Style Ultra connector and 12awg wire to provide a durable and low resistance connection, combined with a 5-pin XH style balance connector. 
EcoPower batteries are tested in house, allowing us to provide batteries that deliver accurate specifications and reliable power, at a price that is geared towards our value conscious customers. Plus, if we say it's in stock, you know we have it. And when you buy it, we will back it up with the outstanding customer service and support that you have come to expect from AMain Sports & Hobbies. So stop beating yourself with cheap batteries, and buy from a trusted source that proves itself time after time with quality products at affordable prices! 
| | |
| --- | --- |
| Battery Model | Electron 4S - 20C |
| Weight | 215g |
| Type | Lithium Polymer |
| Capacity | 2000mAh |
| Voltage | 14.8V nominal |
| Connector Type | T-Style w/12awg wire |
| Balance Connector | 5 Pin XH type |
| Number of Cells | 4 Cell |
| Configuration | 4S1P |
| Maximum Charge Rate | 2C (4A) |
| Maximum Continuous Discharge | 20C (40A) |
| Dimensions (WxLxH) | 34.8x110x29mm |
IMPORTANT:
1) DO NOT leave the battery in your model when charging
2) DO NOT leave unattended when charging
3) ALWAYS balance charge the battery
4) ALWAYS use a LiPo charging bag
5) YOU MUST use a Li-Poly specific charger to charge the pack (NiMH or NiCD only chargers WILL NOT WORK!)
6) YOU MUST not over discharge the Li-Poly battery pack
7) READ & UNDERSTAND the instructions carefully before operating this battery

NOTE: When using high energy Li-Polymer Batteries, please do not over-discharge or over-charge batteries as this will result in over heated batteries. Discharging capacity can't exceed 80% of the max capacity of the pack after full charging to ensure a good cycle performance. It is recommended to fully charge a brand new battery before using and only discharge the battery 50% for first 5 cycles. Always monitor race time and/or set a low voltage warning on ESC (End voltage cannot be lower than 3.2v per cell) Do not use the battery that has too low a voltage.

Do not expose batteries to sunshine or store/charge batteries at the temperature above 35°C or in a closed car. The high temperature environment could cause damage to the pack or make it burst. If the battery becomes hot while fast charging, high current discharging or racing, do not charge the battery until it has cooled completely. Wait about 20 mins, then inspect prior to recharging.